The global aim of the Ohio GDM Postpartum Care Learning Collaborative is to increase knowledge of GDM, the association between GDM and T2DM, and improve health outcomes among Medicaid women with a history of GDM.  By engaging prenatal healthcare providers and primary care providers, our goals are to: 
Improve prenatal education related to GDM, and to increase postpartum education and screening for T2DM among women with GDM
Improve the rate of assessments done for women at high risk for T2DM, and to increase the rate of T2DM screenings among women with a history of GDM or at risk for T2DM.
To achieve these goals, the project employs the Institute of Healthcare Improvement model for improvement methodology to identify, test, and share best practices for improving prenatal education, timely screening for GDM and follow up screenings for T2DM, postpartum visit rates, and postpartum care coordination between OB/GYNs, Diabetes Educators, and Primary Care Providers. Several resources have been developed to date including clinical provider toolkits, consumer resources (English, Spanish, French, Somali and Arabic), educational presentations, data analysis and feedback, and quality improvement tools.
Our Partners
---
Sites from around Ohio have joined the efforts of the Ohio GDM Postpartum Care Learning Collaborative. Participating sites are organized by Primary Care Providers and Prenatal Provider (by region), as shown below. Printable maps are available of prenatal providers and primary care providers.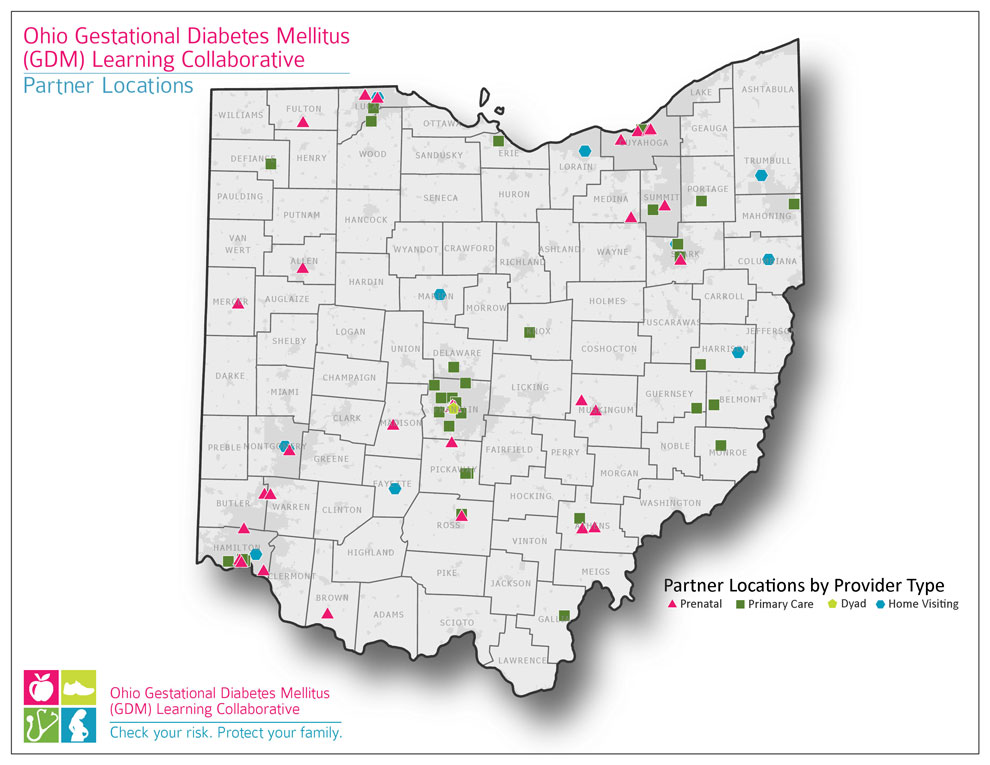 Project Team
---
With funding from the Ohio Department of Health (ODH), the Ohio Gestational Diabetes (GDM) Postpartum Care Learning Collaborative is a partnership between ODH, the Ohio Colleges of Medicine Government Resource Center (GRC), nationally renowned clinical advisors, and provider sites dedicated to improving health outcomes for pregnant women diagnosed with GDM
GRC
---
As the driving force behind Ohio's formal state-university partnership since 2008, GRC represents all seven of Ohio's colleges of medicine and links academic health sciences with state health and human service agencies. GRC staff members are career healthcare and human service research experts, many of whom have held leadership positions in state and local government healthcare agencies and private sector organizations. In addition to the Ohio GDM Postpartum Care Learning Collaborative, GRC works on a variety of projects focused on improving healthcare in Ohio. For a complete list of GRC's projects, visit grc.osu.edu.